Client Trust Accounting For Attorneys
Is your Client Trust Account Compliant?  Will your records pass a random court audit?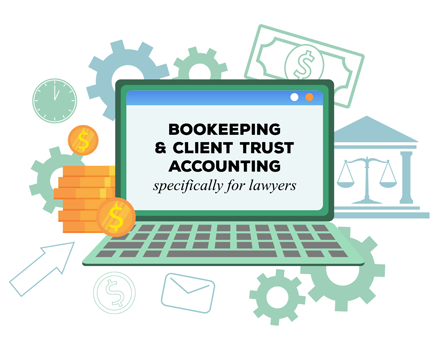 There are a lot of intricacies when it comes Handling Client Trust Accounts (CTAs) and your hands are full handling your clients and their cases.
Handling your Client Trust Accounts is one of our specialties.  With the information we provide you will know:
The Trust Account balance in the Bank.
The balance in your Trust Liability Account.
What the breakdown of the Trust Account on a Client-by-Client Basis is.
A Trust Ledger for each Client, showing all transactions for each client, from the initial deposit through any final distribution.
You have a record of all billable expenses timely and properly entered for each Client.
Have a accurate reporting to avoid any CTA overdrafts.
You have complete and accurate records available when you're ready to negotiate any settlement.
That CTA interest recording and tracking, along with any IOLTA requirements have been met.
What would it mean for your business to have your own Bookkeeper "on-staff" that ensured your Client Trust Accounting was always up-to-date and accurate, at an affordable price!  And remember, you can hire us for just the number of hours you need each week or month.
Give us a call today and get a quote for your specific Client Trust Accounting needs!